NASWC Membership
To be a member, you must live in a home or condominium in our neighborhood which is bounded by Hwy. 183 to Parmer Lane and RM 620 to Anderson Mill Road.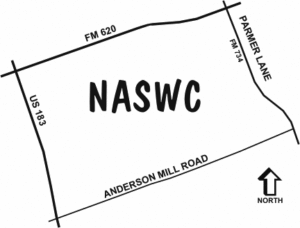 Costs are:
$25 per household
$20 per household with a head-of-household who is sixty-five (65) years of age or older.
Select a New or Renewing membership. Membership fees are due on October 1st of each calendar year. New, first time members who join after October 1st, dues are prorated per quarter as follows:
October-December 100%
January-March 75%
April-June 50%
July-September 25%
For example, if you apply on May 15th and are over 65, you would pay 50% of the $20 fee ($10). Participation in the discounted Round Rock Refuse contract is optional for those eligible, and the savings could amount to as much as $100 per year when compared to some of the other trash service companies serving our area. If you want RRR trash service, be sure to check the correct box on the Application Form. Dues for NASWC are payable online or by mail annually for the fiscal year of October 1st through September 30th. We will send you a reminder when your membership is nearing renewal.
Benefits of Membership
We work with both Williamson County and the city of Austin on Zoning and Development issues, often spending long hours at Zoning and Platting meetings in Austin.
Through the hard work of NASWC leadership, we have nurtured an excellent relationship with area Police, Sheriff's department and our County Commissioner's office since our beginnings in 1998.
We host the annual National Night Out event at the T&C Ball Fields in August for the entire NASWC community
We sponsor the community's Forest North Stingrays Swim Team as part of our support of family-oriented activities
We award scholarships each year to two students who have completed high school and will be attending college or a trade/technical school. Eligibility is for students who live in our neighborhood and are children or grandchildren of NASWC members.
We have a special lower-rate, members-only, contract for garbage disposal with Round Rock Refuse. They also provide recycling and bulk items pick-up as part of the contract. Our members are eligible to participate in this contract if they do not live in an area serviced by City of Austin or a MUD district disposal service.
Our members are eligible for membership in two local credit unions, University Federal Credit Union (UFCU) and Randolph Brooks Federal Credit Union (RBFCU); also with TxDPS Credit Union located in Austin on St. John's Avenue.
We work to uphold the Restrictive Covenants in the community.
We email announcements of events, programs, alerts, and reminders to our members. Through it, members keep in touch with issues affecting our community.
We maintain this website, www.naswc.org, which is chock-full of community information and links.
We are ALL volunteers and your neighbors. We are not a Municipal Utility District nor an HOA. No company or person has been hired to do this work.
Apply for Membership
ONLINE MEMBERSHIP
RENEWAL COMING SOON!
Application Form
Click
here
for the printer-friendly version of the membership form (pdf). Print and complete the form then mail with your check for dues to: NASWC P. O. Box 170297 Austin, TX 78717